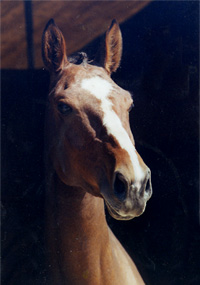 Welcome to Free Rein.
We are a small Dutch Warmblood sport horse breeding operation located on California's Central Coast. We specialize in top bloodlines, with an emphasis on temperament, character, soundness, and performance.
March 2007...
Free Rein is pleased to announce
its association with Ariane Rezvani,
Silver Cup Training. Ariane is a USDF Bronze medalist, USDF "L" Education Program graduate with distinction, and a USDF Certified Instructor / Trainer;
Training - Second Level.
The special attributes of our foundation mares enable us to pursue our goal...
Vittoria SVS keur, an extraordinary young mare by Krack C, was bred by
Jeanne Schamblin of Bakersfield, CA. Vittoria's pedigree is the best of the best: Krack C, Flemmingh, Olympic Ferro, and G Ramiro Z. She was started under saddle in 2005, and her first foal, a beautiful filly born via embryo transfer,
arrived in April 2006. We have great expectations for this lovely mare!
Vittoria SVS keur received the 2005 NA/WPN Gert van der Veen Award,
an honor given to the highest scoring horse of the keuring inspection tour.
Vittoria also earned two National KWPN-NA Top Ten Mare awards in 2005,
placing #1 for Movement and #1 for Conformation.
Vittoria was the 2004 #1 NA/WPN Foalbook 2 Year Old - Fillies & Geldings.
Scandalous keur, by Juventus out of the Volckmar mare, Famous ster preferent, was bred by Bill & Leah Brown and purchased from DG Bar Ranch. She is also a NA/WPN Top Ten foal, placing 4th in the nation as a two year old at the 2001 keurings.
Scandalous was the 2002 USDF NATIONAL CHAMPION 3 YEAR OLD FILLY.
The Free Rein strategy is to slowly expand our breeding stock through the acquisition of exceptionally talented and pedigreed young mares; this provides the opportunity of breeding the mares prior to commencement of their show careers. Our plan is to remain a small business enterprise, enabling us to continue personal interaction with the horses while maintaining the finest performance horse bloodlines to be found.